Overall, yoga bricks are a great way to support you while your attempting difficult yoga poses. It can give added confidence to new and veteran yogis alike. With a wide array of blocks available, there has often been a debate on whether foam or cork blocks are the better choice.
The Benefits of Cork Blocks
Cork has many unique qualities that make it the ideal material for yoga bricks. For instance, cork is firm and durable which offers trusted and long lasting stability so you can be confident in any pose. Additionally, cork is a renewable and biodegradable material. Because of this, cork is an ideal material for any eco-conscious yogi, new or experienced. Here is a great option if you are looking for a durable and eco-friendly cork yoga block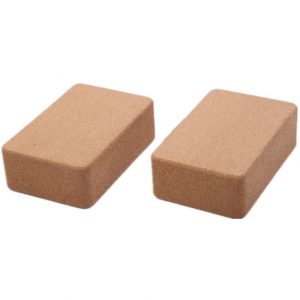 Benefits of Using EVA yoga Blocks 
Foam blocks are typically more popular throughout yoga studios due to being both light weight and cheaper than their cork counterparts. However, it is worth mentioning that unlike cork, foam yoga bricks are not as eco-friendly. While they are not as sustainable,EVA yoga blocks do come in a wide array of colors, making it possible to add a pop of color in your yoga routine.
So Which One do I Use? 
While both types of yoga blocks have pros and cons, we recommend trying out both types if possible before investing in one on your own. Typically, cork yoga blocks provide more support and traction and have the added bonus of being sustainable and eco-friendly. However, foam yoga blocks could be the better option for those looking for a light weight option and a little more versatility.