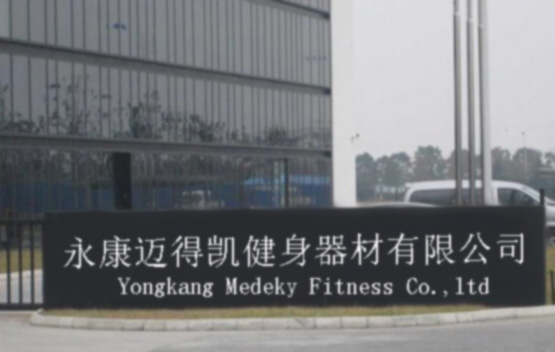 MEDEKY is Top 3 famous fitness equipment manufacturers and gym equipment China factory .Our brand "MEDEKY FITNESS" and "MDKGYM" is hot sale in many customer's website.
Have two 5000 m² factories and one trading company.
Focus on producing fitness equipment for 15+years.Products is more than 40types,such as treadmill, exercise bike, elliptical trainer, air walker, six pack care, AB machine, sit up bench, fold bench, dumbbell and barbell weight bench, ride machine, climb machine ,dip station, GYM equipment and etc..
Passed CE, BSCI,  ROSHS, EN 20957 and ISO certificate
We have  a strict system to manage quality.Your good feedback is best support. Welcome importing gym equipment from china .And  visit our factory.
Company name: MEDEKY FITNESS CO.,LTD

Business type:manufacturer

Location: Yongkang, Zhejiang, China

Number of Employees:260-280

Total Building Size:10,000 Square meters

Machines:cut machines, AUTO weld laser machines, painting machines, plastic mold machine, stamping machines, bending machines

Capacity:200 million US dollar/year

Main Products:treadmill, exercise bike, elliptical trainer, air walker, six pack care, AB machine, sit up bench, fold bench, dumbbell and barbell weight bench, ride machine, climb machine ,dip station, GYM equipment

Main Market: Europe,  Asia,  Middle Eest, North America

Certificate:CE, ROSHS, EN 20957,BSCI, ISO certificate